Last updated on January 13th, 2023 at 05:25 pm
Unless otherwise specified by the court, one can use a P.O box as the correspondence address for all their divorce paperwork. In this article, we shall discuss the nuances of using a P.O box for divorce.
One of the main components of the process of filing for divorce is to inform the other party and the court about your whereabouts. That way, both the court as well as the spouse is able to contact the person filing for the divorce as and when necessary.
Complete contact information including mailing address must always be mentioned on the divorce petition and on other corresponding court documents.
Can you use a P.O box to file for divorce near Pennsylvania?
Whether one is filing a divorce petition or simply responding to their spouse's divorce petition, including their contact address on the paperwork is mandatory. In most cases, the instructions or the form that has to be filed will require the person to either add a street address or a P.O box.
In the state of Pennsylvania, one can add their P.O box address on divorce paperwork. Technically, any address where correspondence is possible is fit to be added to the divorce papers. So, either the physical address or the P.O box address can be added to file for a divorce in Pennsylvania.
Can you use a P.O box to file for divorce near New Jersey?
Getting a divorce decree in New Jersey is no rocket science. Like any other state, the simplest form of divorce in New Jersey is an uncontested divorce. However, both contested and uncontested forms of divorce are available in New Jersey.
Once you have gathered all the necessary legal documents for the divorce process, you will have to file a divorce complaint containing basic information about your marriage and why you want a divorce. In the divorce paperwork, one can add a po box address or their personal home address.
In cases of domestic violence, the complainant need not include their personal address. An alternate address of a trusted friend or family member or a p.o. box address will also suffice in such cases.
How to get a free divorce by mail?
Getting a divorce, especially when you are going through financial crises, can be a tough situation. Getting legal advice to guide you through the divorce case may not be feasible. Divorces in the united states can be expensive, even if you intend to represent yourself. The divorce fees are quite high. However, it is possible to get a divorce when you have no money or are in a difficult financial situation.
It is possible to get a waiver on court fees while getting divorced. The first step in getting a waiver is to obtain the correct form online. Your local divorce court or the family court will have the necessary forms for a fee waiver.
One has to provide proof of service or proof of income to get a fee waiver. Details about your income from all sources such as child support, bank accounts, credit cards, payroll, tax returns, and social security must be included. Once all the court papers are gathered, they need to be notarized and filed.
Your case will proceed after the waiver has been authorized. The simplest course of action is to file a settlement or appear in court and jointly explain your settlement to the judge. Another choice is to proceed with the divorce in an uncontested manner, meaning your ex is not even required to show up for you to obtain a court order granting a divorce.
Keep important documents like birth certificate, documents pertaining to name changes, retirement accounts and joint accounts, marriage certificate or marriage license, mortgage document, and immigration documents handy.
What is the USPS box address format?
A new applicant for divorce may choose mailing via USPS for the service of process. If you have chosen USPS as your process server, you need to ensure that the address of your spouse is entered in the format prescribed by USPS. This is particularly important to prove the proper service of process, documents, and other relevant documents.
USPS recommends that addresses be written in uppercase letters and if possible, the address must be limited to only five lines. The sender of the package must write the address of the recipient in English.
The first line of the address must include the name of the addressee followed by the second line, which includes the street address and post office box number. The third line must include the name of the city or town and postal code. The last line of the address must include the country name.
When you send the divorce paperwork via certified mail services like USPS, you must collect the return receipt. Once your spouse signs for the delivery, the post office will mail you a signed return receipt. However, if you feel that your spouse may refuse to sign the return receipt, it is best to opt for personal service of divorce papers.
How do I find PO boxes near me?
One can easily locate post office boxes near them with the help of P.O Locator feature of USPS. Once you enter your city or state, or the ZIP code of your location, the USPS website shows you available post office boxes near your location within a chosen radius. It is quite easy to use and hassle-free. You can locate different types of USPS offices within up to 100 miles radius from your location.
What is an uncontested divorce?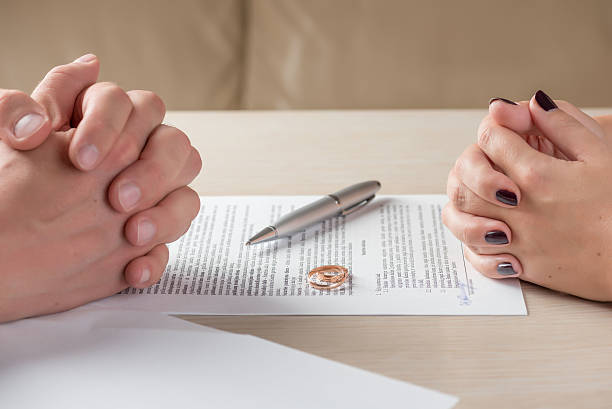 When the parties to a divorce agree on all terms such as child custody or division of assets, it is known as an uncontested divorce. In an uncontested divorce, the parties agree to resolve any contentions or disputes between them without the interference of the legal authorities.
Different states in the United States have different procedures for granting a divorce certificate in case of uncontested divorce. Before opting for an uncontested divorce, ensure that you and your spouse agree on all points of contention.
How do I get a cheap divorce?
There are several ways to get a cheap divorce in the U.S. such as:
Opting for an uncontested divorce if you and your spouse can resolve contentions without the interference of legal authorities.
Divorce mediation helps in choosing a more affordable middleground instead of traditional, expensive divorces.
Online divorce services are affordable for those looking for a quicker and more hassle-free solution.
DIY divorce filings ensure that the only expenses in the process are court fees and costs.
FAQ relating to can you use a PO box for divorce
Can you use a PO Box for legal documents?
During a divorce procedure, one can deliver important notarized legal documents such as birth or death certificate, money order, protective order case, and divorce papers via mail. The addressee or authorized family members or office workers for home-based business owners can receive such documents.
However, if the document includes the official divorce petition or summons, no one but the spouse can accept the same and sign a return receipt for it.
How do I find out who owns a PO box?
One can search the owner of a po box by visiting their local post office. One can try requesting for information from the local post office. If the post office is being used for business, one can easily locate the name and address of the po box by simply asking.
However, if the po box is used for personal purposes, one has to present legal documents explaining the purpose of such search. Additionally, one can use the USPS Address Lookup and Address Verification tool as well.
Is a PO Box traceable?
The simple answer to this question is yes. A p.o box can be traced, whether it is used for business purposes or for personal use. One can easily request information about the name and address of a P.O box owner if it is used for business purposes.
Even if the po box is used for personal purposes, one can request information about the owner of such a po box by submitting relevant legal documents pertaining to the reason for his or her enquiry.
Can PO boxes be anonymous?
The USPS does not guarantee anonymity for po boxes. The USPS holds the right to disclose your name and address as and when requested or deemed necessary. However, one can obtain a "ghost address" from a commercial mailing service that will receive mails on your name. This ghost address can be revealed if necessary.
Can you use a PO box to file for divorce?
Unless otherwise specified by the court, one is free to add his or her P.O Box address to paperwork required for divorce filing. This address will be used for correspondence between the person who files for the divorce and his or her spouse.
If one serves summons or other paperwork via mail, the delivery is legally completed only when the addressee signs and sends a return receipt.